Andrew Airlie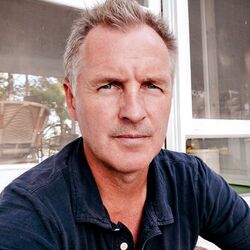 Birthplace
Glasgow, Scotland, UK
Birthdate
September 18, 1961
Andrew Airlie is a Scottish-born Canadian actor who portrayed Mayor Rob Woodriff on Bates Motel.
Biography
Early Life
He was born in Glasgow, Scotland, on September 18, 1961.
Career
He has starred in television series including Breaker High and his TV credits include guest starring in popular television shows such as Monk, Smallville, Stargate SG-1 and The X Files. He had television regular roles as Mr. Oliver, the protagonist's father, on the series, Reaper, which aired from 2007 until 2009, and as Mission Control Commander Mike Goss on the series Defying Gravity in 2009.
His best-known film role was as Michael Corman in Final Destination 2. He portrayed Carrick Grey, father of Christian Grey, in the 2015 film Fifty Shades of Grey.
Ad blocker interference detected!
Wikia is a free-to-use site that makes money from advertising. We have a modified experience for viewers using ad blockers

Wikia is not accessible if you've made further modifications. Remove the custom ad blocker rule(s) and the page will load as expected.