Kenny Johnson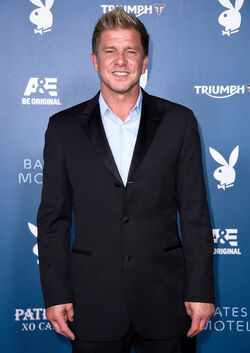 Name
Kenneth Allen Johnson
Birthplace
New Haven, Connecticut, US
Kenny Johnson is an American actor who portrayed Caleb Calhoun on Bates Motel.
Biography
Early Life
Born Kenneth Allen Johnson in New Haven, Connecticut, Johnson was raised in Vermont.
Personal Life
He has been married to Cathleen Oveson since December 21, 2005.  They have one child.
Trivia
He was reunited with his Sons of Anarchy co-star Ryan Hurst from Season 3 onwards of Bates Motel.  He appeared in the former from Season 2 to Season 4.
He was upgraded to a main cast member for Season 3 only.
Ad blocker interference detected!
Wikia is a free-to-use site that makes money from advertising. We have a modified experience for viewers using ad blockers

Wikia is not accessible if you've made further modifications. Remove the custom ad blocker rule(s) and the page will load as expected.