Zack Shelby is a young, handsome, clear-eyed deputy of the White Pine Bay Police Department but is the main villian of the first half of season 1. He's almost immediately attracted to Norma Bates and finds himself drawn into her life and wanting to take care of her. He was often partnered with Alex Romero.
Biography
Edit
After Shelby and the sheriff, Alex Romero, visited the Bates Motel one (soon after the murder of Keith Summers), he quickly developed feelings for Norma. (First You Dream, Then You Die)
After Norma and Norman dumped Summers' body into the bay, Shelby and Romero found Summers' hand in the lake. There were carpet fibers caught in the watchband, and Norma and Norman were changing the carpets in the motel when Shelby and Romero had visited. The next day, Shelby and Romero returned to the motel with a search warrant. Shelby found Summers' belt underneath Norman's bed and hid it from Romero to protect Norma.
Shelby and Norma's relationship developed, but he never earned Norman's trust. Norman broke into Shelby's house one night and found Jiao locked up in the basement. (What's Wrong With Norman)
Norman and Emma Decody eventually freed Jiao from Shelby's enslavement and took her back to the motel, where they convinced Norma of Shelby's involvement in the sex slave business. (Ocean View)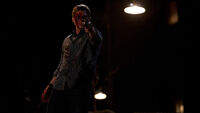 Shelby visited Norma one night at the motel, when he discovered Jiao in one of the rooms. He pulled out a gun, pushed Norma to the ground and chased after Jiao through the woods. When Shelby returned, he held Norma, Norman and
Dylan
at gunpoint in
their house
, where he yelled at and physically abused Norma for "betraying" him. In an attempt to 
protect his mother
, Norman attacked Shelby, which caused him to drop the gun he had earlier confinscated from Dylan. Dylan grabbed the gun, Norma ran outside with Norman, and Dylan engaged in a gunfight with Shelby. Dylan eventually prevailed and killed Shelby. (
The Truth
)